Our Training Philosophy:
We believe dog training should be based on a relationship of trust, not fear. For that reason, we use positive reinforcement, redirection and luring to train dogs at the Lodge. The use of physical corrections and other aversive training methods (choke chains, prong collars, etc.) are prohibited in our training programs.
Free half-hour dog training consults are available with our on staff certified dog trainer. These sessions are intended to assess your dog's current training level and help you decide on the appropriate next step for you and your dog. We offer a variety of group training classes that span all ages and levels. If your schedule does not allow training classes, we offer custom dog training.
Did you know training can also be incorporated into dog boarding stays and dog daycare?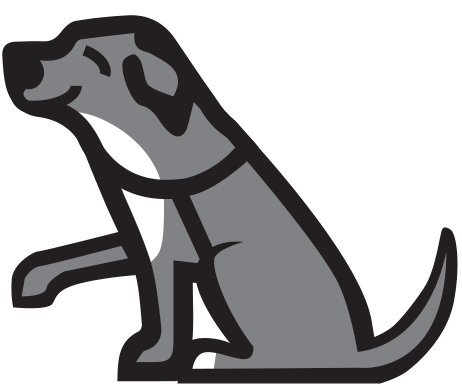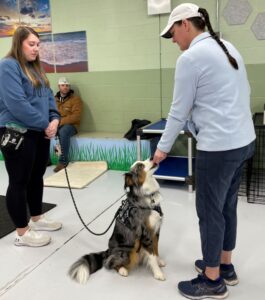 Our Training Classes
We ask that you do not show up more than five minutes early for your class. Please mask up if you have symptoms of an upper respiratory infection.
Registration forms may be emailed, faxed, or texted to us. (We can email or text the registration form to you, you can stop by to pick it up, or you can download it from the class description section.)
Our classes span all ages and levels. We always use positive reinforcement, redirection, and luring to train dogs at the Lodge. Below is a list of the dog training classes we offer.
Call us today at (610) 965-3647 to register.
If your schedule does not allow dog training classes, check out our private dog training.
Payment is due at the time of registration to reserve your place in class.**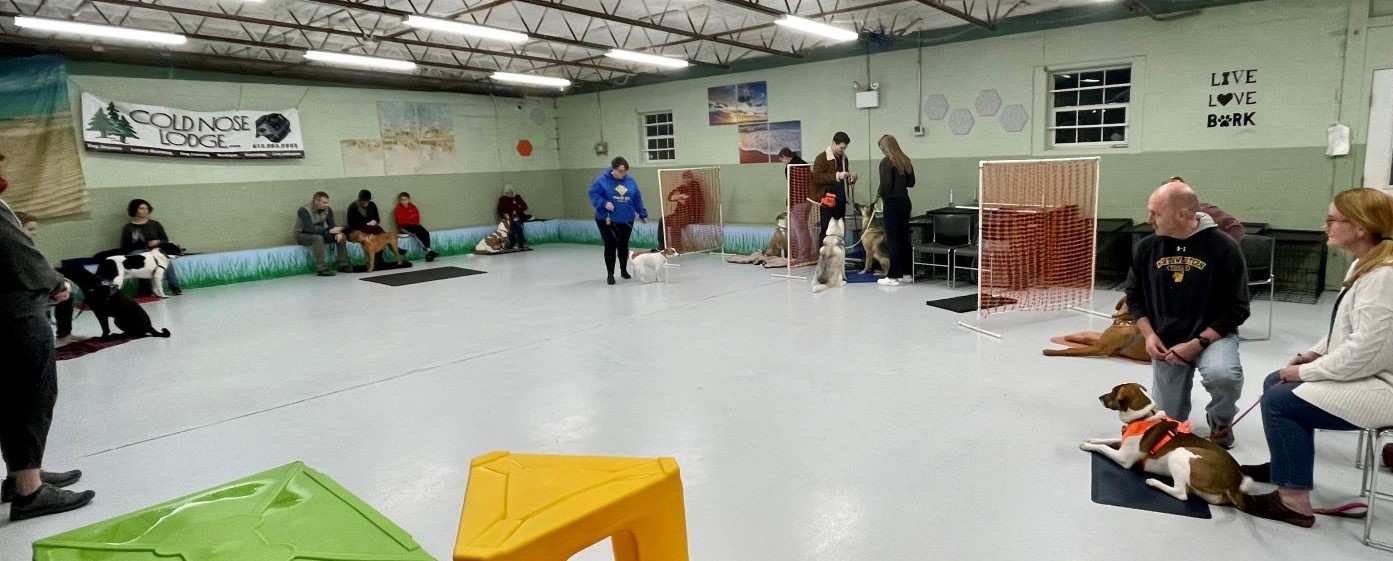 Puppy Kindergarten
Tuesday Nights   7:15pm – 8:15pm
April 18 - May 9
May 16 - June 6
June 13 - July 11 (No Class 7/4)
July 18 - August 8
August 15 - September 5
$149 – includes treats and written materials
In our Puppy Kindergarten Class, we concentrate on dog socialization and basic manners. Your puppy will learn the dog training commands: sit, down, shake, come, and stay. An open dog playtime is also included in each class. Puppy Kindergarten is open to all puppies up to 6 months old, but we recommend that puppies get started by 4 months. Puppies must be up-to-date on vaccines. They must be at least 10 days beyond their first Distemper and Bordetella vaccines. Rabies vaccination is required when age appropriate. A negative fecal exam is also required. The entire family is encouraged to attend our Puppy Kindergarten Class together.  Check our our Puppy Kindergarten Class on YouTube!
Download our registration form.
Elementary School
Monday Nights   7:15pm – 8:15pm
May 1 - June 12
June 26 - August 7 (No Class 7/3)
August 14 - September 25 (No Class 9/4)
$219 – includes treats and written materials.
Dog training topics and commands covered in dog training class include: sit, down, come, stay, leave it, drop it, tricks and leash manners. Elementary School is open to all dogs 6 months of age and older. It is never too late to start training! Graduates of Puppy Kindergarten are welcome to start prior to 6 months with recommendation of your PK instructor.
Download our registration form.
Middle School
$149 – includes treats and written materials
This advanced dog obedience training class is a great next step after Elementary School. In Middle School, we build upon the skills learned in Elementary School to learn new tricks and fun games. Practicing with distractions is also a key element in this class. All dogs are required to have completed Elementary School or an equivalent obedience class.
Focus
Please call for schedule.
$199
This class is for dogs who are easily distracted while in public. The goal of this dog training class is to achieve focus from your dog and to learn how to keep your dog's attention on you.
Download our registration form.
Rally Obedience for Fun
$139
This fun new class is a great introduction to Rally Obedience. We ask that all dogs entering class already know how to sit, lay down, and walk well on a loose leash. Elementary School or a similar program is required prior to Rally.
Download our registration form.
Rally Night
$29 per night – A fun night for you and your pup! Elementary School or a similar program is required prior to attending our Rally Nights.
Thursday Nights 7:15pm - 8:15pm
June 15 - July 13 (No Class 7/6)
July 20 - August 10
August 17 - September 7
$149
Old and young dogs can learn new tricks! This fun dog training class is a way to continue training after basic obedience classes. Basic manners will be reinforced while learning fun new ways for you and your dog to show off to friends and family. Tricks covered in class include: roll over, bow, crawl, peek-a-boo, and many more.
Earn an official AKC title for your dog by the end of class.
Download our registration form.
Canine Good Citizen (CGC)
Wednesday Nights 7:15pm - 8:15pm
June 21 - August 2 (No Class 7/5)
August 16 - September 20
$219 – includes class and test
This two-part dog training program stresses responsible pet ownership and basic good manners for dogs. All dogs must pass a ten-step test held during the last class. When they pass, they will receive a Canine Good Citizen Certificate from the American Kennel Club! Learn more about Canine Good Citizen.
Download our registration form.
Therapy Dog
Please call for schedule.
$149
This class serves as an introduction for those who want to visit nursing homes, etc. You will need to follow up with one of the national therapy dog associations for certification.
Download our registration form.
Dog Obedience for Kids (ages 8-15)
Please call for schedule.
$139 
Why should grown ups have all the fun? In this dog training class, the kids are in charge. We cover basic obedience and good dog manners. This class is open to dogs over 6 months of age and children ages 8-15. A parent/guardian must be present during class, but the children will be the primary handler of the dogs.
Download our registration form.
Class Policies
**Registration is not complete until we have received your tuition payment, which may be paid by mail, over the phone, or in person. This payment ensures you a place in training class. Each reservation holds a spot in a limited-sized class. Pre-payment allows the Lodge to effectively plan for class offerings and student resources.
If you cannot make your current schedule, we encourage you to consider transferring to a different class (where your tuition fees will also be transferred); however, the transferring is subject to availability of the class. No refunds will be issued once a class has started. Cancellations require a minimum of five days notice for a refund of your tuition payment. If you cancel less than five days before the start of class, but not less than 72 hours before class, your tuition payment may be used as a credit towards another class or other services provided by Cold Nose Lodge. If cancellation occurs less than 72 hours prior to the start of classes, $50 of the tuition payment is forfeited. You will receive a refund for the balance of class tuition.
Instructor/Class Cancellations
Notifications regarding weather or emergency cancellations will be given as soon as possible before class. The class times for the make-up sessions will be the same as the original classes, unless the class and instructor mutually agree upon an alternative date and time. There are no refunds for make-up classes that you are unable to attend.
Waiting List
If a class is full, we will begin a waiting list. A deposit is not required to be placed on the waiting list.